Safe Boating Classes – Spring 2020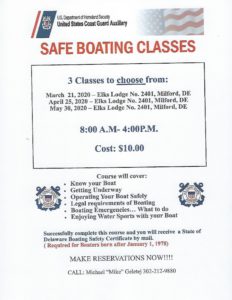 You may click on the image above for a printable copy of the flyer. 
The United States Coast Guard Auxiliary will be holding Safe Boating classes at the Elks Lodge in Milford, DE this spring.  You will have three dates to choose from.  The cost of the class is $10 per person. 
This course will cover: getting to know your boat, getting underway, operating your boat safely, legal requirements of boating, what to do in boating emergencies and enjoying water sports with your boat.  Upon successful completion of this course you will receive a State of Delaware Boating Safety Certificate by mail.  This certificate is required for boaters born after January 1, 1978. 
Call Mike Geletej with any questions or to make your reservations now:  302-212-9880